The practice of home staging is essential when it comes to luxury real estate as the price tag is higher. According to
a study conducted by the National Association of Realtors
, 81% of buyers say staging makes it easier for them to visualize the property as a potential future home and 46% of buyers say they are more willing to walk through a property they viewed online that is staged than one that is not. The proof that staging works is in the numbers. With this in mind, let's take a look at key approaches to staging a luxury home in the Merion Station area to maximize its chance of success on the market.
1. Simple and elegant decor and furnishings
When decorating and furnishing a Merion home for listing: simple, sleek, and elegant is the name of the game. Solids and smaller prints are a safe bet for upholstery and leather can certainly increase luxury appeal. As for decor, the design of the home will dictate which pieces to include. If you are listing a countryside colonial, you may want to opt for antique statues and vintage accents. Remember – at the end of the day, less is more.


If you're looking for high-quality decor and furnishings, check out
Host Interiors
in Ardmore and Chestnut Hill. Host Interiors offers a wide selection of upholstery, tables, rugs, lighting, art, and more with access to a full catalog of interior décor offerings from their vendors.
2. Utilize instruments
Yes, we're talking about the musical ones.
According to PianoPiano CEO Sarah Mehta
, more brokers and homeowners are renting pianos to use for staging as showcasing one of these instruments or a collection of guitars mounted to a wall can boost a listing. Not only do these enhance the aesthetics of the interior space but also give buyers an idea of how their personal instruments will fit into the property if they have their own. Although this is considered common practice yet, including these pieces in staging could contribute to a higher sale.
3. Luxe lighting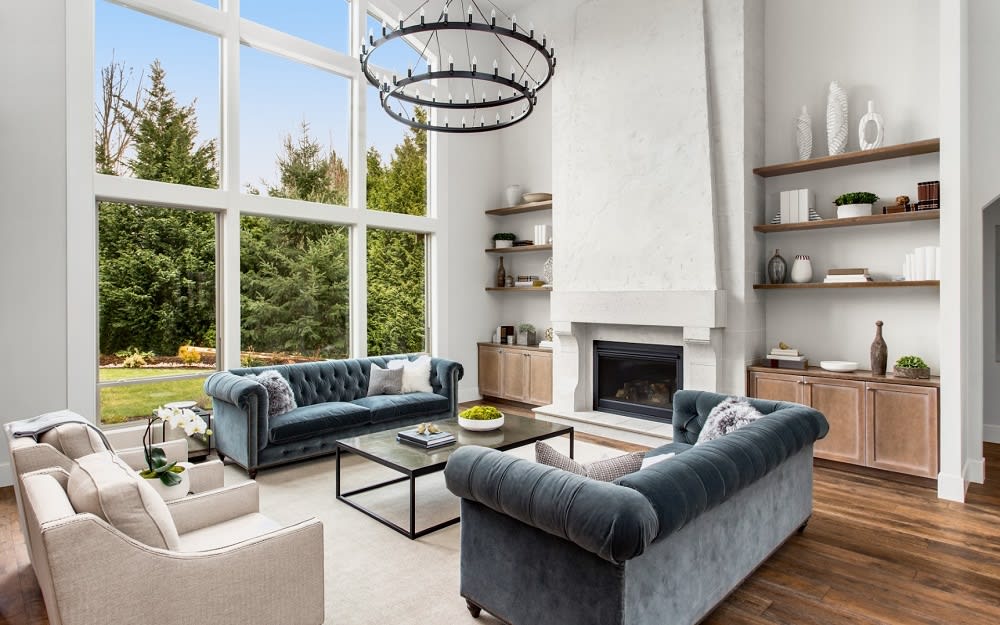 Luxury clients want luxury lighting. They want to see crystal, black iron, and candelabras on their chandeliers. They also desire recessed or mood lighting throughout the property. Whichever lighting style you decide to go with, make sure it reflects the high value of your property.
For opulent lighting fixtures that are sure to dazzle, head on over to
Arch St. Lighting
in Philadelphia. They have been providing the region with illumination installation and guidance for over a hundred years.
4. Depersonalize
We cannot stress this one enough. You want potential buyers to walk into your property and imagine their future home, not your current one. Take out the family photos and any other personal items you may have displayed around the house. The last thing you want is for the property to look lived-in as that says anything but "luxury" to buyers. In this instance, renting a storage unit is a great investment to keep your personal items and keepsakes in.


There are several
Extra Space Storage
locations across the Philadelphia area, all temperature-controlled and highly secure. Keep all your belongings and valuables safe as you undergo the selling process.
5. Keep it Neutral
Another good rule of thumb is to keep a neutral palette throughout the property. It never hurts to add pops of color here and there but neutrals such as black, white, brown, and beige are easier on the eyes and have broad appeal. Should you opt for some color, we recommend soft tones like baby blues and seafoam greens. Again, it's all about the type of home – if you are staging a penthouse along the Schuylkill River, you may be able to get away with a bolder palette but if your home is tucked away on a back road in Bala Cynwyd, soft shades may be the way to go.
6. Capture the lifestyle
You're not just selling a home – you're selling a lifestyle. You want to tell a story with staging, ideally one which accurately reflects the buyer's aspirations which, in this case, is "luxury." Consider the lifestyle of your target buyers; do they entertain company or are they looking for a sun-soaked sanctuary to ease into after a few long months on the road? Really get to know the demographic you're trying to market to and gain insight into how they live, not just what they like, so you can stage accordingly.
7. Add greenery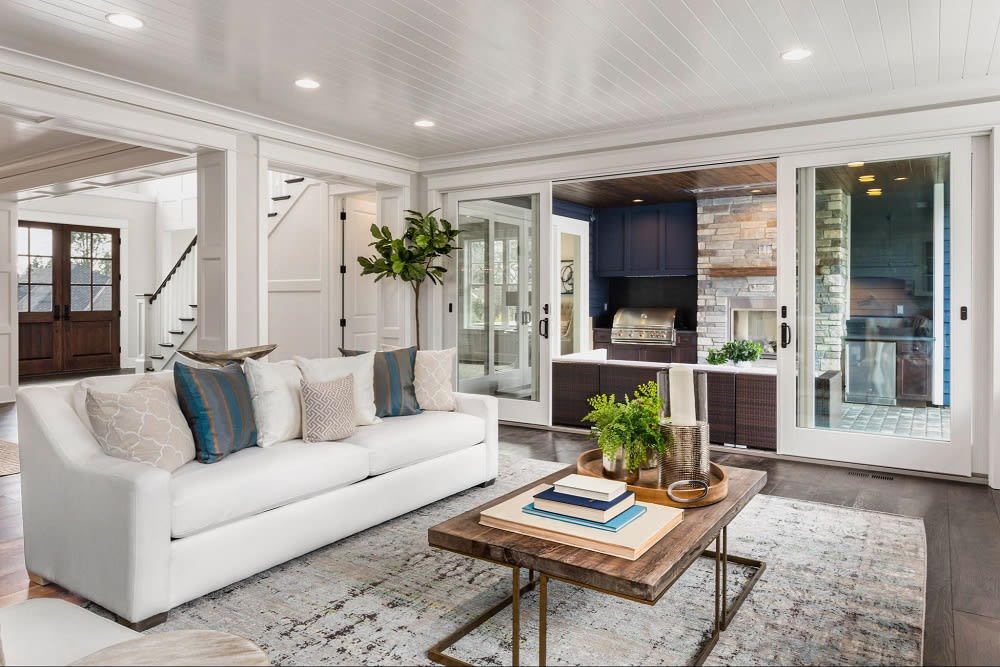 A little green goes a long way and brings some much-needed dimension to a home. Place flowers in common areas such as hallways or dining rooms or, to go big, put a palm tree in the corner of living space.
According to a study conducted in 2017 by Costa Farms and Alloy Research
, a third of homeowners felt plants made a house more welcoming. In addition, they can open up a space and make it appear larger.
If your outdoor space or garden needs sprucing up, employ the expertise of the crew at
Long Stems Floral Design
. They offer an impressive garden design service to transform your space with lively, lush greenery and flowers.
8. Ditch the curtains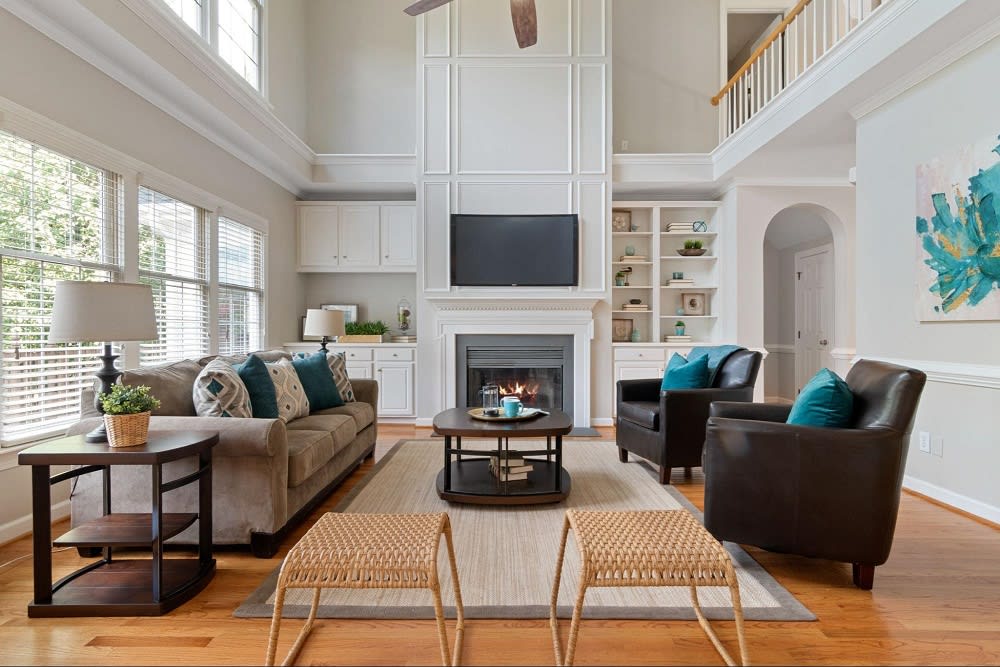 Under no circumstance should you have curtains or window treatments if you are staging a luxury home. Not only do they block out the beautiful, priceless natural light, but can easily overwhelm a room and make it appear stuffy. The only drapery we endorse for use in staging is sheer white curtains. Not only do they blend in nicely with the space but natural light can still illuminate the room. Otherwise, leave the windows bare. Additionally, a central objective in staging is leaving somewhat of a blank canvas to assist buyers' imagination of how they would move into the space, and oversized curtains can impede this.
9. Showcase amenities
Showcasing your home's amenities is a significant part of staging. Be sure to make your kitchen look sparkling, the outdoor patio prime for parties, and the garage looking spacious enough for a car enthusiast. Although you may think about these details last, they remain important to buyers. To take things a step further, select a few appliances in these spaces to upgrade with more luxurious and efficient options.
10. Give the outdoors some love
The outside of a home should look just as lavish as the interior. After all, potential buyers will see the exterior before they step inside so you want to make a strong first impression. To cultivate the perfect outdoor space, give all surfaces a good pressure wash, freshen up the greenery, and–if you have one–make the pool shine. Having an outdoor kitchen space is a big dream for many. If one is already installed, be sure it looks inviting with plenty of counter space for cooking and seating for guests.


If you don't have the time to stage a home yourself, you may decide to bring in an interior designer to help. There are many firms to choose from in the Philadelphia area, but here are some we highly recommend considering:
Henck Design
- Henck Design is an award-winning, full-service interior design company headquartered in Philadelphia. Owner and Founder Christina Henck is known for creating luxury spaces with her signature Modern Classic aesthetic. Henck has received a Best of Houzz award and been featured in Style Magazine.
Restore Decor Design House
- RD Design House offers homeowners and brokers several staging options and packages – from repair and maintenance to de-personalizing and space optimization. The designers at RD Design House aim to transform properties in a way that sets them apart from the rest.
Romi Designs
- Romi Designs offers staging services to make homes stand out and lead with authenticity. While most companies play it safe with simple decor, Romi Designs takes it one step further by incorporating fun colors and modern accents. If you're looking for something a little more bold and eclectic, this is the firm for you.
Lorna Isen is an accomplished realtor with over twenty years of experience representing hundreds of clients throughout Main Line, Center City Philadelphia, and Chester County. Lorna is committed to guiding her clients through the selling process and works one-on-one to educate and expand her clients' knowledge of real estate. If you are interested in learning more about staging or about luxury Merion homes for sale, please don't hesitate to
reach out today
for expert guidance.